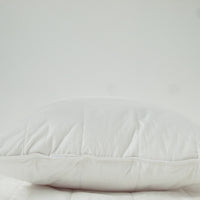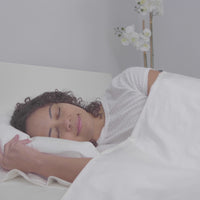 Cotton & Silk Pillowcases | Set of two
Optimize regenerative sleep with our cotton and silk blend pillowcases. This unique material offers a subtle luster with a smooth feel against your skin, while providing breathability and durability for long-lasting comfort. Available in four colors designed to infuse a sense of calm in the bedroom. Includes two pillowcases.
Breathable and sensitive skin friendly. Suitable for hot and cold sleepers; regulates body temperature. Moisture wicking. Naturally hypoallergenic.
Reduce friction on your hair and skin while you sleep preventing frizz and fine lines. 
35% Grade A silk
65% Premium cotton
Machine wash in cold water.
Use delicate soap in small quantities.
Tumble dry on low heat.
Do not bleach.
Do not iron or dry cleaning.
STANDARD 21x28 inches
QUEEN 21x32 inches
KING 21x38 inches
Includes two pillowcases.